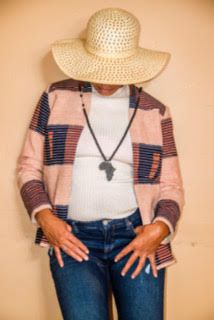 Djebetele
This open blazer is flattering to all shapes and for all occasions from casual to formal occasions or work wear. Team it with a MAHYELI matching scarf and a simple underneath. The blazer is 100% cotton from Senoufo traditional handmade woven fabric Northern part of Cote d'Ivoire, West Africa.

Available in stock
Although we try our best to match garment prints as shown in the pictures but due to the random nature of the pattern, all items are handmade and the item you receive may have the pattern in a different position on the item to the one pictured. Therefore each item is unique.
It's possible to request made to measure according to your size.
Overview
· Handmade item from Cote d'Ivoire
· Color: Old Pink, Blue, White
· Open blazer
. Please dry clean for best results or hang dry, DO NOT BLEACH, do not use washing machine
. Material: 100% Cotton, Senoufo traditional handmade woven fabric
· Ships worldwide from United States-We will provide a tracking number once the item has been dispatched.
Available sizes: M
2 M
Standard Size Measurements are as follows:
Size XS (US S 0-2)
BUST: 33" - 34"
WAIST: 26-27"
HIPS: 36" - 38"

Size S (US S 4-6)
BUST: 35" - 36"
WAIST: 28" - 29"
HIPS: 39" - 41"

Size M (US S 8-10)
BUST: 37"-38"
WAIST: 30" - 31"
HIPS: 42" - 44"

Size L (US 12-14)
BUST: 39"- 40"
WAIST: 32"- 33"
HIPS: 45" - 47"

Size XL (US 14-16)
BUST:41"-42"
WAIST: 34'-35"
HIPS: 45"-47"

Size XXL (US 18-20)
BUST: 43"-44"
WAIST: 36"-38"
HIPS: 48"-50"