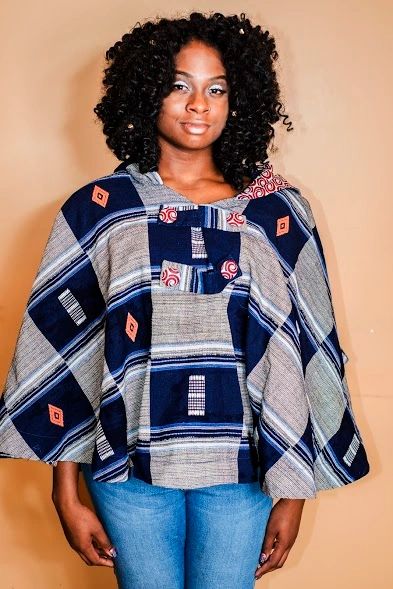 Siagbe
This amazingly coat is stylish and fun to wear. The large hood and the side pockets are both a practical addition. The interior of the hood is made up in African wax print cotton while the rest is made up in Senoufo handmade woven fabric. Sure to keep you warm in the cooler months! The loose design is flattering to any shape. There also 2 layers and buttons made up from the African wax print on the chest - it makes the coat to stand up. Wear is ideal for you from fall to spring. The coat can be dress up for a night on the town, or pair it with jeans or leggings.


Although we try our best to match garment prints as shown in the pictures but due to the random nature of the pattern, all items are handmade and the item you receive may have the pattern in a different position on the item to the one pictured. Therefore each item is unique.
Made specifically for one person. Items are not mass produced, it's a production for one person at a time. It's possible to request made to measure according to your size.
Overview
· Handmade item from Cote d'Ivoire
· Color: Dark blue, white, pink
· Hooded
. Side pockets
. DRY CLEAN ONLY (do not use washing machine)-DO NOT BLEACH, Hang dry
· Material: 100% Cotton, African wax print, Dozo traditional handmade woven fabric
· Ships worldwide from United States-We will provide a tracking number once the item has been dispatched.
Size available: M
Standard Size Measurements are as follows:
Size XS (US S 0-2)
BUST: 33" - 34"
WAIST: 26-27"
HIPS: 36" - 38"

Size S (US S 4-6)
BUST: 35" - 36"
WAIST: 28" - 29"
HIPS: 39" - 41"

Size M (US S 8-10)
BUST: 37"-38"
WAIST: 30" - 31"
HIPS: 42" - 44"

Size L (US 12-14)
BUST: 39"- 40"
WAIST: 32"- 33"
HIPS: 45" - 47"

Size XL (US 14-16)
BUST:41"-42"
WAIST: 34'-35"
HIPS: 45"-47"

Size XXL (US 18-20)
BUST: 43"-44"
WAIST: 36"-38"
HIPS: 48"-50"