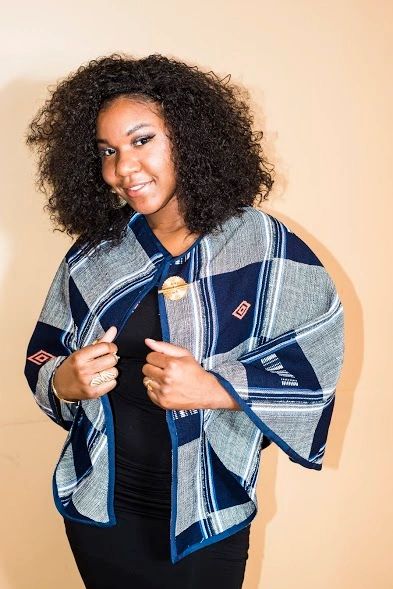 Maimouna
This retro cape is handmade with beautiful traditional woven fabric from the Senoufo tribe in Northern of Ivory Coast in West Africa.

One gold button (made from poids Baoule artisanal jewelry from Baoule tribe in Ivory Coast) closure at the neck, just under a cute type rounded collar . Cape lies open slightly to show what you are wearing underneath.This cape makes the perfect layering piece. The perfect outer garment to make great statement on a blank tank and jeans .
One size fits most.
Other sizes are available on request.
Please dry clean for best results.
Available in stock
Although we try our best to match garment prints as shown in the pictures but due to the random nature of the pattern, all items are handmade and the item you receive may have the pattern in a different position on the item to the one pictured. Therefore each item is unique.
Overview
· Handmade item from Côte d'Ivoire
· Color: Dark blue, white
· Material: 100% Cotton, Senoufo traditional handmade woven fabric
. Please dry clean for best results or hang dry, DO NOT BLEACH, do not use washing machine
. Ships worldwide from United States-We will provide a tracking number once the item has been dispatched.